LH Ladner's Blackmouth Curs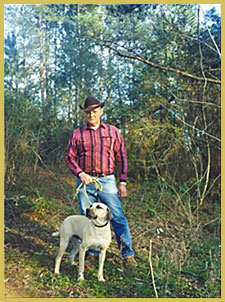 We regret to announce that our dad, LH Ladner passed away January 24 in his home with his daughters at his side and is now in the comfort of a new journey with the Lord.
We plan to maintain his legacy with this breed going forward by updates to this web site with Curtis Ladner in mastering the original kennels. In the meanwhile if you are interested in one of these pups or wish to discuss this breed you may reach Curt at 228-860-5279.
We also plan to update this site soon in memory of our dad LH Ladner. We extend a very special 'Thank You' to pastors Jesse Ladner (family) and Scott Young, a very close hunting friend for the wonderful service they delivered in memory of LH. We also thank the many dedicated and long time hunting friends and Ladner Blackmouth Cur dog owners for the kindness they have shown our family during our time of bereavement.
LH Ladner
LH Ladner from Southern Mississippi has propagated and hunted the Ladner Blackmouth Cur all his life.
Lets get serious about tree dogs. Will they tree or do some folks just say that their dog will tree? Seeing is believing. This line of black dogs are super tree dogs.
Family & Generations
They have been in my family of over 200 years. We know that they have been bred from nothing but the best for that long, and probably a lot longer.
They are the most versatile dog that I know of in the world. They are used for everything here in South MS; squirrel, coon, bobcat, penning cattle and hogs. They are one of the most protective dogs around your family, more especially children, they are a real obedient dog. They are used for rescue dogs also used on bear and mountain lion in New Mexico, Washington, Oregon, and Montana, as well as many different places through out the United States and Canada.
The cur dog looks to their master for advice of what to do and what his master wants him to do, and he is there to please.
The dogs have been known for saving peoples lives, and the cur dog would die for his master. I have letters from people who state that this dog has killed a snake that was about to bite a child, or kept the child from going out on the road where he would have been run over. He is very protective of family members.